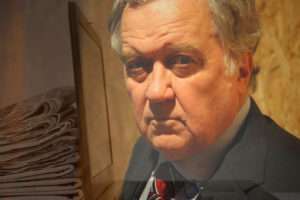 Suddenly, in these horrible times, us old folks remembered that last Tuesday, December 14, was 28 years since a day long forgotten. Back then significant, and afterwards archived only in sporadic memories of us to whom the story refers. And hardly anyone would have remembered it if we didn't have all this around us today. A memory of happy moments in painful times.
On December 14, 1993, in Strasbourg, at the seat of the European Parliament, 'Oslobodjenje' was awarded the 'Sakharov' prize. Prestigious recognition to those 'who have dedicated their lives to the defence of human rights, freedom of opinion, and dignity of public speech'.
This was not the first award we received from the world by compiling a newspaper every day since the beginning of the war, which was proof that we are alive and that we can fulfil the oath that 'Oslobodjenje' must not die, despite everything. But, as we believed at the time, there was hope that there, in the European Parliament, among the representatives of countries that consider themselves leaders of democracy and freedom, justice and truth, truly understand the meaning of our struggle. And in terrible conditions, on the front line. We worked spontaneously, with all our might, with optimism and in the fight for our own dignity, but also psychological and moral support for the people of the city, destroyed with bloodthirsty rage. In the profession that meant life to us, in our own home, that was normal then.
'Concerned' European Parliamentarians
On behalf of the war comrades from the editorial office, I had the honour to go to Strasbourg and receive the award, but I also said something to the great gathering of parliamentarians about the Sarajevo reality and our experience of their observation of that reality. In fact, how do we look at the fact that by then, we had been alone for a year and a half and were left by the world, and them who were there, with daily promises that this would not be the case and that everything would end soon? No matter how bitterly they joked in the underground shelter, making a newspaper and announcing that 'the Sixth Fleet just sailed into Miljacka'. I left Sarajevo with a UNPROFOR transporter from the 'maybe airlines' squadron. In the restaurant of the European Parliament, with a lunch that neither eyes nor stomach could believe after Sarajevo, I was asked curiously by a high-ranking European official 'which airline I came from Sarajevo, Air France, Alitalia, Swissaire…!' I was decently confused. In December '93. the lady did not know that only military transporters sent by gunfire from the hills around, occasionally land and take off from Sarajevo's 'maybe airport'.
The decision to tell 'concerned' European parliamentarians about what must be said about us, there and then, it was not difficult. And they were told in a bitter way, even a little brutally.
In the past few days, I found that speech written in the house, on the 'Pearl' typewriter, a little later destroyed by shrapnel from a grenade from the neighbourhood in Neđarići. I searched for preserved war records, texts and documents from that time, on the eve of a meeting the other day with friends from the wartime 'Oslobodjenje'. They invited us from the History Museum in Sarajevo to visit them and remember the beginnings of '92, friends who are no longer with us and events whose memories are slowly fading. It was touching. At times and a little bitter, comparing those days from the end of '93. and Strasbourg with this one today. And our determination at the time to tell them what they didn't know, which many at the time – apart from the form and paid obligations – were not too interested. At that time, they fitted us into 'realpolitik', which, as today, obviously covered us. As much as it was important to their geostrategies and interests. And to those here who then, as today, snuck into those interests, personal goals and profits.
It is not easy to face with bitterness how different we were back then in Bosnia. First of all, we were ourselves, and then not so much. In that underground bunker, we thought in the same way, with the same logic and sentiments. With an unquestionable common commitment, we are ready to tell the world all this, even in the heart of the then great Europe. It is a sad truth how much the existing profiles of players there, are exclusively self-centred, with sweet-spoken promises that we, here and now, are important to them even more than we think. In short, in just thirty years, Strasbourg, although numerically stronger, is spiritually smaller than it ever was. 'Mentally' we are also different, divided and smaller in many ways. We are not with today's 'leaders' in a formally free state, not even a shadow of what we were then, as we thought and told them, there, in the European house.
Among other things, they were told this, directly and loudly, in the name of the then folks from 'Oslobodjenje': 'In our country, in Bosnia and Herzegovina, it was not customary to give awards and recognition to the defeated, except when it comes to feelings of discomfort or remorse over someone's defeat. We are, therefore, a little surprised by this significant award, despite the fact that we have been overwhelmed by numerous awards from all over the world. We are also surprised by the huge misunderstanding that is obviously in question on this occasion. Everything we have done so far in the newspaper whose journalists are being killed. It is aimed at defending and preserving multiethnic, multinational, cosmopolitan and tolerant Bosnia and Herzegovina, and not at ending it, dividing it and wiping it off the face of the earth. From this house of yours, however, come the belief that Bosnia and Herzegovina needs to be divided, that a new Berlin Wall needs to be built within it, that its peoples need to be separated and that the once happiest city in the world, Sarajevo, needs to be turned into a new spiritual and cultural desert, one based on the terror of the nation, borders and one mindedness…
… Before I take this to our house in Sarajevo, this award, I want to assure you that we will continue to fight against this division, against this spiritual devastation and against these walls by all possible means, all our forces that we still have… In "Oslobodjenje" they destroyed everything that could be destroyed. However, they could not take from us what they want to take from us in the name of the so-called new political reality – our right to live and die with whom we want, and not with those imposed on us by the politics of totalitarianism and nationalism. Fascism… However, ladies and gentlemen, we are not surprised today by the fact that they, these fascists, exist. We are surprised by the fact that their logic has been legalized in the name of some "new political reality". Fortunately, the Sakharov Prize you are giving us today can also be proof that there are those within your world who experience a "new political reality" differently than those who think it means just putting an end to Bosnia and Herzegovina. We will understand the award that way, and in no other way. We are sure that Sakharov would understand it that way. Everything else would be mere cynicism. For you and for us…'
That afternoon, in the crowded hall of the European Parliament, after these words, a long and loud applause broke out. It was unusual. From today's perspective memorable but from current experience not surprising. Just as it is not surprising that the new grotesque effort to convince us – which has been going on for months – that the efforts of political profiteers in overthrowing BiH, and the creators which are falling apart now, should be 'democratically suppressed through dialogue and confidence building'. Really. A showdown through 'dialogue' with the destroyers of the common Bosnia and Herzegovina, which they put in their pockets with the sole goal of keeping it that way. It was not a miracle to that mental structure even then, with well-paid ignorance, that planes (do not) fly from Sarajevo even a year and a half since the beginning of the war, nor that thunderous applause of supposed admiration of the fight that did not help two years after it! With the permanent voting for the extension of the arms embargo to the Army of BiH and the United Nations, then stopping that same army in the final victories over criminals, then the 'Peace Agreement' which gave birth to all conditions for the continuation of conflicts to this day, with legalistic (sic!) respect for 'leaders' for the sake of their criminal interests.
Altogether, three decades later, we are different than we were. The 'big ones' in rounding off the victory of interest-based genetics in which the 'status quo' is an unquestionable goal in their lives. And we little ones, in favour of their interests. Happy if we can crawl under their tails.
Nothing Is Amazing
From Strasbourg then, to the friends with whom that speech was written there, I returned with new knowledge about the little ones there, and here, who, by all accounts, even now – are very similar. But even more, about us, great ones during that period. They would then and now put us in small pockets of their interests. And our current 'leaders', their partners, would embed their interests with their own profitable local status quo, enhanced by new theories of 'competencies', 'constituencies' and 'patriotisms' from textbooks on corruption and domination.
Facts and truths about many events, not only yesterday, but also about today, are no longer valid, but are constructed on the basis of the interest of the stronger. A global story. For those of us who grew up with other professional and human codes, it is still an immeasurable pleasure to carry at least intimate memories of belonging to the then Sarajevo and much wider. Especially in comparison with then and today Strasbourg and our miserable fit into this new world. With all their envoys, who are coming to us not believing in the 'strange unwillingness of "leaders" to accurately identify problems and face them'.
How to explain to them their 'incredible unwillingness' to understand all this here, which is so clear and unquestionable to anyone who wants to understand. Which one of them, and what is he not ready for here, if that unwillingness is not his goal and interest in which they have consciously built themselves with local 'leaders'? Complicated? God forbid. For us in the basements of 'Oslobodjenje', where we made a newspaper out of anything but normal, nothing was unbelievable then. And Strasbourg helped us with all of that.
That is exactly why it was a significant award then. And a sad but happy memory compared to today's truth.